Applying Behavioral Science to Enhance Messaging Through Digital Signage:
Insights for the Deskless Workforce
Only

22%

of the global workforce is engaged at work, and

74

% of employees feel that they're missing out on important company information
Fostering a sense of engagement among deskless and digitally detached workers is business-critical. Employee engagement – driven by fit-for-purpose, transparent internal communications – is a tangible competitive advantage.
How do we increase engagement among deskless workers?
We partnered with the Department of Psychology at Durham University to understand how the field of
behavioral science

can offer organizations
great deal of valuable guidance and actionable best-practice – and the role employee-facing screens play.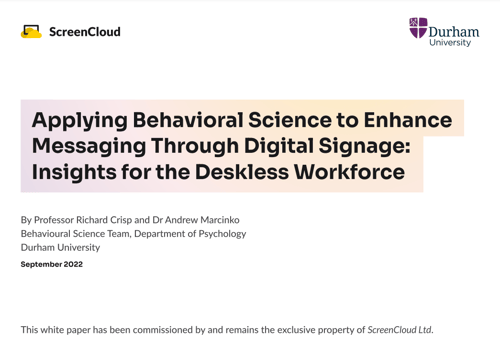 Screens employees love, that you'll love to manage
With best-in-class security and 24/5 professional support, IT leaders love us too.
Consumer-grade
UX
Manage your digital signage content flow across one or many screens or locations easily and intuitively; via a simple yet feature-rich interface.
Enterprise-grade security
With SOC 2, Type 2 compliance, SSO, custom permissions, and audit logging; you can let the right people in while keeping your account and data secure.
70+ apps, 1000s of integrations
We play nice with the tools and feeds you already use, including Clock, News, YouTube, Weather, Google Suite, Microsoft Teams and Power BI.
ScreenCloud powers digital signage for 8,500+ organizations just like yours
"ScreenCloud has helped RPL save 65 weeks a year by moving from manual creation, paper-based reports over to digital signage, utilizing automated Microsoft Power BI dashboards."